Aurora Voices with Lindsey Loewen
Meet our team | June 07, 2023 | 3 min. read
Our Aurora Voices series celebrates the people and teams whose unique experiences, backgrounds, and voices drive Aurora's mission forward.
Meet Lindsey, Director of Safety Management Systems at Aurora
This National Safety Month, we're spotlighting one of the leaders of our Safety organization. As the Director of Safety Management Systems (SMS), Lindsey leads the team that builds programs and policies that support Aurora's organizational safety approach.
Safety is woven into everything we do—our business model, our partnerships, our products, and our culture—and we empower all employees to speak out about safety concerns, no matter what they may be. Our SMS is one way we ensure everyone at Aurora has access to the safety information they need to make informed decisions.
How did you end up at Aurora?
After a six-year enlistment in the U.S. Air Force, I transitioned to a start-up airline and, while there, I began working in safety management. I was lucky enough to be in the right place at the right time with a series of regulatory actions that made Safety Management Systems a regulatory requirement for airlines. As the company prepared to meet the new requirement, I received a masterclass in SMS from some of the world's foremost experts, including Aurora Safety Advisory Board member George Snyder, who has been responsible for SMS implementation at various companies worldwide. This experience equipped me with foundational safety management knowledge that I've applied to every role since.
After working in various safety leadership roles at multiple airlines, I was recruited to Uber's Advanced Technologies Group to develop an approach to SMS tailored for self-driving. I have been fortunate enough to continue that mission here at Aurora.
Can you tell us about your role at Aurora?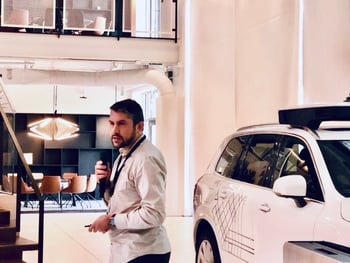 Over the course of my career, I've been an avid researcher of safety investigations, and involved in more than a few. One of the most consistent themes, whether it's regarding a transportation, technology, space, or nuclear company, is that there's never just a single point of failure. Lapses in accountability, breakdowns in communication, and organizational silos can lead to an overall degradation of safety culture and, eventually, accidents.
In anticipation of these challenges, my team and I work hard to connect the dots to ensure every employee is working to minimize our overall risk and knows their role in the safety "big picture." We facilitate the Safety Review Board (our top-level safety committee), help to resolve safety concerns, create tailored educational programs for different teams, and partner with our People Operations department to analyze safety culture data. We spend time on the ground talking to Aurorans at our terminals, labs, offices, and test tracks to ensure any safety hazards are proactively identified and immediately addressed. We also work with our operations and engineering teams to manage anomalies and ensure we've built risk assessments into our tests before our technology hits the road.
What excites you about your job?
I loved my time in the aerospace industry, but 100 years of history have made aerospace safety a science. There is not a lot of room for change or innovation. The safety framework for the autonomous vehicles industry is in an earlier stage of development. While autonomous technology has been around for a while, the way people think about safety and how to integrate it into the business is still very much in its infancy, so much of what my team and I do is work directly with development and operational teams to build SMS into their work on the Aurora Driver. We also actively push for best practice creation and information sharing across the industry.
I have also always admired careers that focus on public service and safety, and working in Safety Management, especially for a company that is transforming the way we move people and goods, allows me to make a real difference in society.
What are some challenges in building a Safety Management System for an autonomous vehicles company?
The self-driving industry is constantly evolving. This means Aurora's SMS should be able to both adapt quickly and iterate over a long period of time. This speed of change pushes my team to ensure we are finding the right balance of policy, process, and administration to effectively manage safety without unnecessarily slowing progress.
The self-driving industry is relatively new, but Safety Management Systems are a common requirement for oil and gas companies, hospitals, rail transportation companies, and international airlines. The existing guidance for these industries has been helpful in kickstarting our efforts, and it's been exciting to find ways to make the SMS process our own. For instance, we have integrated an autonomous vehicle-specific Safety Case model into our internal audit programs, developed processes to risk assess our unique test operations and ensure mitigations are in place prior to execution, and applied best practices and tools for engineering workload management and resolution to our safety issue management process.
What do you do in your spare time?
I enjoy spending time with my family and dogs in Texas's state parks. I also get my stress out through a lifelong study of Brazilian Jiu-Jitsu and enjoy competing annually in Dallas.
Delivering the benefits of self-driving technology safely, quickly, and broadly.