Aurora Voices with Khobi Brooklyn
Meet our team | March 08, 2023 | 5 min. read
​​Our Aurora Voices series celebrates the people and teams whose unique experiences, backgrounds, and voices drive Aurora's mission forward.
Meet Khobi, Senior Vice President of Communications at Aurora
This month, we are recognizing Khobi, one of Aurora's first female executives. Throughout her career, Khobi has helped lead some of today's most well-known and beloved brands, such as Square, Tesla, and Nike—establishing each company's approach to strategic storytelling.
As the SVP of Communications, Khobi leads an integrated communications and marketing team responsible for building, shaping, and sharing Aurora's story and, by extension, the story of the autonomous vehicles industry. Her team ensures that everyone from employees to investors, customers, and the general public know about Aurora's products, the people building them, and the impact Aurora will have on society by delivering self-driving technology.
Tell us about your work and how you think about storytelling at Aurora.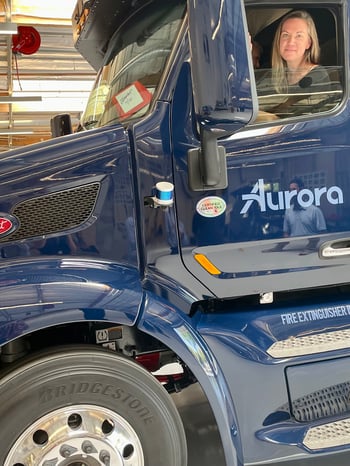 A great brand is born from a combination of the products and the value they deliver, and the quality of the people and culture that create those products. Aurora has an incredible story to tell about how our products and people are changing the future of transportation. My job is to lead the team that tells that story to the world, and our challenge is to help people understand what it is that we're building and how it will impact their lives. The work we do across marketing and communications to accomplish this consists of everything from creating pivotal, memorable moments that capture the world's interest to introducing new concepts and using strategic storytelling to help build lasting value.
For example, right now it's important for us to help people understand the work we're doing toward delivering our first commercial product, Aurora Horizon. So we helped create and share our Aurora Horizon Product Roadmap to give a clear picture of the work we're doing and the significant milestones we intend to meet on our path to launch. We're proud to be able to provide this kind of transparency and guidance, as it's helpful for our customers, partners, and anyone following the evolution of the self-driving industry to have ways to better understand how close we are to realizing the benefits of self-driving technology.
At the end of this quarter, we plan to achieve our "Feature Complete" milestone. This is a big moment for Aurora—once the Aurora Driver has all of the capabilities necessary to launch, we unlock our ability to refine and ready our technology for commercial use. On the communications and marketing team, it's our opportunity to really start to show how our product is progressing and interacting with our customers. It's a really exciting time to see this technology become more tangible and we want the whole world to feel that excitement as well.
What are some of the challenges of building a brand from scratch, while also helping to define a new industry?
Building a brand doesn't happen overnight, or even over a year, necessarily. It's a journey in which we are constantly evolving and strengthening the stories that define the company. Building a strong brand requires incredible intentionality and consideration of every detail of what the brand represents and how it shows up. And then as the brand evolves, you have to let go a little and allow it to build its own unique relationships with the public. It takes trust and patience to get the right balance of controlling what you can control and being open to outside influences and interactions that allow the brand to be authentic and relevant and engaging.
When I joined Aurora in 2018, the autonomous vehicles industry was still nascent and we were focused on writing the first chapter of our story and establishing our foundational values and presence. Today, we've seen the AV industry go through multiple ups and downs, and at Aurora, we just wrapped up our first full year as a public company. We have welcomed many new people, vastly expanded our partner ecosystem, learned and iterated with our technology and our culture, and are now eagerly preparing for our commercial launch. The work we do to shape and strengthen our brand and amplify Aurora has changed many times over the past four years and will continue to transform as we reach different moments in Aurora's journey. It's our values and our mission that serve as the foundation for how we consistently show up.
You have worked on such memorable brands. Tell us about your path to Aurora.
I've been fortunate to work with brands that impact society by taking bold approaches to changing the status quo, and that's something that I've pursued throughout my career. I started out at a small boutique PR agency where I was able to work with different companies using storytelling to achieve many things for their business. It was a great way to build a foundation for how I use messaging, different channels, and creativity to build value for companies. Next, I joined Tesla, and the job was to build and shape Tesla's brand and change the perception of electric vehicles. While there, I was part of a small team that led Tesla's IPO, launched the Model S, Model X, and Model 3, opened up new markets, and broke ground on industry-changing initiatives like the Gigafactory. While introducing the world to transformative products, we changed how the automotive industry thought about building and selling cars.
I also worked at Block (formerly known as Square), where I helped pivot the brand away from a Silicon Valley darling to a company trusted by small businesses around the world. And finally, before Aurora, I spent time at Nike, where I helped the Converse brand shift its purpose and connect with younger generations by building more sustainable products and supporting initiatives to drive societal change. Aurora was an incredibly enticing opportunity because not only was there a need to build and establish a strong brand and deliver a valuable product, there was also a need to help build a company and culture that is representative and inclusive of people from all walks of life.
Is there one story or campaign you are most proud of from your career?
It's hard to pick just one, but I'll take you back to 2010 at the North American International Automotive Show in Detroit. At the time, Tesla was just a tiny startup with few resources at our disposal, and we needed a way to stand out and be heard at this influential automotive event. Our goal was to put Tesla on the map while also continuing to shift the narrative around electric vehicles from slow toys to real, durable vehicles on the road.
We decided to take one of the display Tesla Roadsters on a road trip through freezing weather and snow storms. We invited Tesla employees to drive legs of the road trip from Los Angeles to Detroit, giving them the chance to experience the great product they were building, and stopping along the route to introduce people in towns across Texas, Oklahoma, and so on to the benefits (and fun) of driving electric vehicles. When the Tesla Roadster arrived in Detroit, it rolled straight onto the showroom floor, covered in dirt and grime from its long journey. Tesla employees had a great opportunity to learn more about how their work was showing up in the world and feel pride in their work, and we garnered a ton of free attention at our booth, giving us a stage from which to teach the automotive industry about Tesla and the capabilities of electric vehicles.
What is your personal leadership philosophy?
Leaders don't become leaders because they are given a title. Leadership is about earning trust and building connections with people. As a leader, my responsibility becomes providing the support, guidance, and space for my team to do their best work. To me, great leaders have the strength to take risks, the humility to recognize their mistakes, and the confidence to be wrong. They have the patience to teach, but not the patience for indecision. They have a vision to define and the perspective to drive change.
Being a good leader isn't about always being right, it's about helping people find the confidence to explore their visions, push their boundaries, and ultimately create meaningful work.
What do you like to do in your spare time?
Spare what? Kidding. I make time for the things that give me energy, which are playing outside, cooking and eating, and being with my family—they give me the best energy I could ever find. I prioritize finding time to spend with my son every single day. I'd like to say I am always finding adventures to introduce him to, but in truth, he's the one teaching me about everything from outer space to humility.
Delivering the benefits of self-driving technology safely, quickly, and broadly.