Aurora Voices with Bruce Botsford
Meet our team | April 13, 2023 | 4 min. read
​​Our Aurora Voices series celebrates the people and teams whose unique experiences, backgrounds, and voices drive Aurora's mission forward.
Meet Bruce, Senior Staff Service & Maintenance Delivery Manager at Aurora
When an autonomous truck isn't constrained by hours of service limitations applicable to human drivers and is running around the clock, how do you ensure the proper maintenance and service of that truck?
As Senior Staff Service and Maintenance Delivery Manager at Aurora, Bruce is tasked with solving complex challenges like this. Bruce determines the processes, data, and actions that are necessary to get our vehicles running smoothly to reach their destinations and deliver goods for our partners.
Tell us about the Service Delivery organization at Aurora.
The Service Delivery team is made up of people from a wide range of backgrounds, including technology, logistics, consulting, and the military and this diverse set of experiences provides us with a range of perspectives that are valuable in solving complex problems.
As we move closer to launching our autonomous commercial product, Aurora Horizon, we're working hard to transport goods safely and efficiently while minimizing operating costs. This requires getting our vehicles up and running with very little downtime when they arrive at our terminals for service or maintenance. My team minimizes the probability of unexpected issues arising while our vehicles are on the road by creating processes to help us learn more about the health of our vehicles and anticipate challenges they may encounter.
We partner with our vehicle fleet support team on preventative maintenance and tricky repairs to increase the uptime of our vehicles. Our vehicle fleet support team works in our terminals, including our newly unveiled South Dallas terminal in Palmer, Texas. This next-generation terminal is designed for commercial driverless operations and will house, maintain, prepare, inspect, and deploy our autonomous trucks.
What is something you've learned about the logistics services industry that non-industry people don't understand?
Commercially licensed truck drivers hauling freight across state lines are generally allowed to drive for up to 11 hours at a time and must take a 30-minute break after driving for eight hours straight. This federal requirement is to ensure drivers remain alert and well-rested, seeking to prevent dangerous situations on the road. Autonomous vehicles are capable of operating at nearly all hours of the day, so we need to get creative with how we build in downtime for important inspections and maintenance.
What is the impact of higher uptime?
High uptime is one of our key focus areas as it unlocks the promise of autonomy. If we can keep a vehicle on the road safely hauling loads for customers 20+ hours a day, we can deliver goods across the country in record time for the logistics industry, while lowering operating costs. Doing so will realize new opportunities, upend how our customers plan their distribution networks, and transform how retailers manage inventory. For example, it normally takes a truck four to five days to travel from LA to NYC, but an autonomous truck could do it in a little over two days. This could increase the length of time a perishable product such as milk or produce remains fit for consumption before spoiling, and ultimately drive down the costs of goods for consumers.
Can you tell us more about our new South Dallas terminal?
Our new South Dallas terminal, located in Palmer, Texas, includes features that are unique to and critical for driverless operations. Our terminals are designed to handle not only traditional truck terminal tasks like pre-trip inspections, but also tasks specifically required by Aurora Driver-powered trucks such as sensor calibration verification and high-speed data offloading. We have also designed our terminal with on-site weigh stations, fueling stations, and maintenance shops staffed by Ryder technicians.
This way, instead of relying on a human driver to manage the truck scales, pump gas, or fix a minor hardware issue out on the road, our autonomous trucks can get all the care they need in one place. Our terminals offer services that are designed specifically to focus on high truck uptime and increased asset utilization. This enables us to deliver the promise of autonomy to our customers.
How did you end up at Aurora?
In undergrad at the University of Virginia, I took foundational classes in urban planning and architecture and became fascinated by the real-world implications of autonomous vehicles and their impact on how we design our cities and highways. I knew I wanted to be a part of this revolutionary industry, but I took a slight detour first.
I started my career on the Business Planning and Supply Chain teams at Coca-Cola while living in Shanghai, China. After a few years, I left to pursue an MBA at Northwestern's Kellogg School of Management focusing on Operations. Following graduate school, I moved to the Bay Area to work in Apple's Product Operations group, primarily working on iPhone New Product Introduction.
Over the years, I helped ramp up production for iPhone 7, 8, XS, XS Max, and XR ahead of each product launch, and I was blown away by the ability to scale a product from nothing to mass production in such a short period of time. Watching an idea move from paper to a physical product is incredible and I get energized working on things I can see being used out in the world. This idea has stayed with me throughout my career and was one of my motivations to join Aurora.
At Apple, I also learned to be motivated by the challenge of simplicity, as the most simple things are often the most complex problems to design and build around. The movement of goods may seem simple—people rarely think about how their package was delivered—but it is an incredibly complex industry. Driving might seem simple—we do it every day without much thought—but teaching a computer to drive is incredibly hard. Aurora is tackling both of these problems at the same time, and that's a really exciting thing to be part of.
What is your life like outside of Aurora?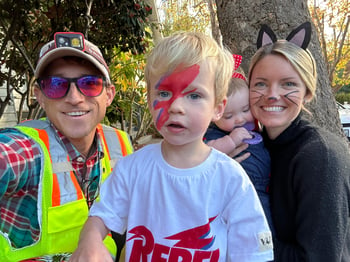 My wife and I have two kids, a 3-year-old and a 1-year-old, so spending time with them in these key years is very important to us. No single person has unlocked the secret to working hard while also being the perfect parent, partner, and friend (no matter what they may say!). There's no magic formula, so I do a lot of reading, listening, and absorbing about parenthood—one of my favorite reads is The Expectant Father. When I have time, I love to be outside cycling, skiing, or running.
Delivering the benefits of self-driving technology safely, quickly, and broadly.